EXPLORE ESTÉE LAUDER FOUNDATION
What Is Foundation Makeup?
What is foundation used for? Foundation serves as a base for the rest of your makeup. When used properly, it has the added benefit of evening out skin tone and reducing the appearance of blemishes and imperfections. There are four types of foundation that offer differing levels of coverage:
• Sheer coverage evens out skin tone and is ideal for people without blemishes they want to cover up
• Medium coverage hides minor imperfections but still gives a natural finish
• Full coverage reduces the appearance of all blemishes and imperfections, so it's important to match it to your skin tone—make sure to use our virtual try on!
• Buildable coverage is versatile and lets you layer it to get your desired effect

If you are wondering which foundation is right for you, take advantage of Estée Lauder's live chat service. They can help you find the right finish, shade and coverage for your specific skin type and desired look.
How to Apply Foundation Makeup
Even the most beautiful natural makeup looks tend to include foundation, but it's vital that you use one that's suited to your skin tone and skin type. For example, Double Wear Stay-in-Place Makeup comes in over 55 shades. It's for all skin tones and all undertones, so you can match it perfectly to your skin. It has a cashmere matte finish and offers buildable coverage.

Here's how to apply foundation:
• Start with your skincare regimen: Cleanse, tone, add serum, moisturize, use eye cream, and apply a face mask, primer, or setting spray if required
• If you have acne-prone skin or experience breakouts that you need to cover up with concealer, use it before foundation
• Apply liquid or cream foundation to the back of the hand you don't write with, then use a sponge or brush to blend it into your skin from the center of the face outwards
• For powder foundation, use a brush to generously apply the product to your face using large, circular strokes
What Are the Different Types of Foundation Makeup?
There are several types of foundation makeup, each with its own benefits for different skin types. In addition to finding your perfect shade match, it's important to target your specific skin concerns. Let's take a look at some of the most popular types of foundation:
• Liquid foundation: The most popular one. It's ideal for normal or combination skin types — try Double Wear Stay-in-Place Makeup, which has a cashmere matte finish and medium to full buildable coverage
• Powder foundation: Helps reduce shine for people with oily skin — check out Double Wear Stay-in-Place Matte Powder Foundation, which is non-acnegenic and won't clog pores
What Is My Foundation Shade?
Are you wondering, what is my Estée Lauder foundation shade? To find out the best shades of foundation for your skin, take a look at Estée Lauder's foundation finder. You get personalized recommendations by answering a few questions about skin intensity, undertone, desired coverage, finish (matte, semi-matte, or radiant glow), and skin type. You can also use our virtual try on exclusively on your mobile device to find your perfect match.
What Is the Best Foundation Makeup for Your Everyday Routine?
What is the best foundation? This is entirely dependent on your skin and how you want the desired finish to look. Everyday makeup routines differ slightly from person to person. If you have any questions, our free beauty advisor services can help you find the foundation that's best suited to your needs. Different occasions call for different foundations, so it's important to have a few in your wardrobe. Whether you're going to the gym, brunch with friends, or an important event, we have you covered.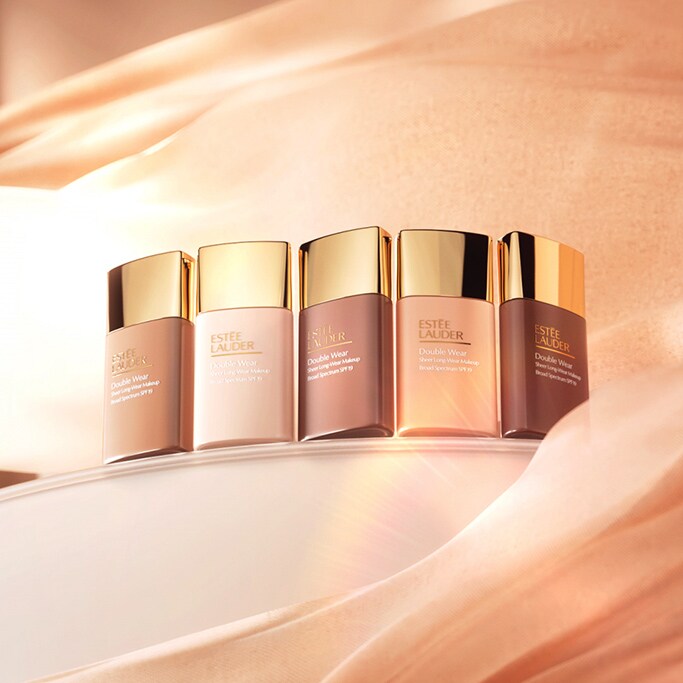 DOUBLE WEAR
SHEER LONG-WEAR MAKEUP SPF 19
Sheer Matte Finish +
All-Day Wear
12-hour wear.
Sheer-to-light coverage.
Seamless sheer matte finish.
Weightless, fresh feeling.
Visibly perfecting, healthy looking.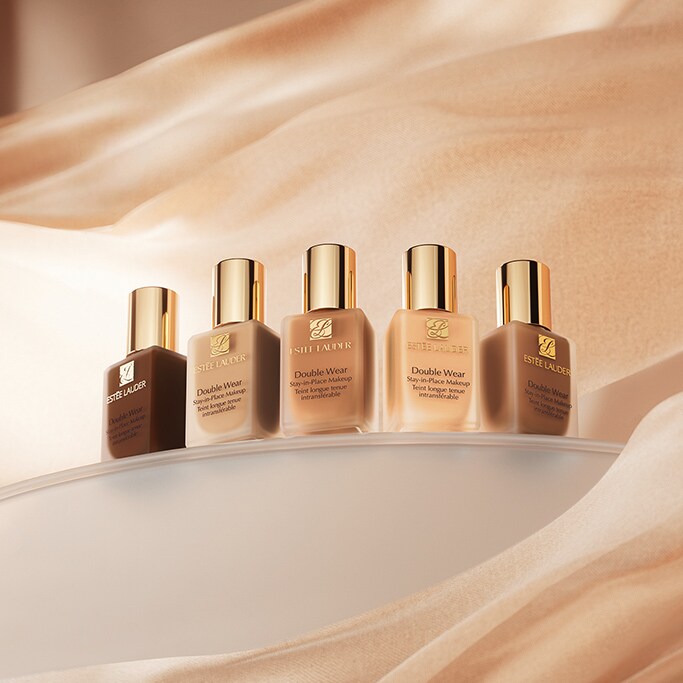 DOUBLE WEAR
STAY-IN-PLACE MAKEUP
Cashmere Matte Finish +
24-Hour Wear
Our #1 Foundation Worldwide.
Full coverage.
Cashmere matte finish.
Waterproof, sweat- & humidity-resistant.
Transfer-resistant.